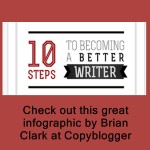 Ever wonder how you can become a better writer?
Brian Clark of Copyblogger wanted to communicate with his followers that you get better at writing by . . . you guessed it . . . writing! We always want a great bullet point list of what we need to do better in our blog posts, don't we?
He solved that problem with this tongue-in-cheek list of 10 bullet points to becoming a better writer.
My personal writing coach, Eric Walker, totally agrees with this. He often coaches us in the Daily Marketing Coach to be writing daily, in spare moments, and making writing a habit that becomes more and more enjoyable as we become better and better writers.
If you, like me, are wanting to improve your bank account by blogging and marketing online, then becoming a stellar writer is of paramount importance.
You can't have conversions unless you have followers.
You can't have followers unless you have folks reading what you write.
And writing HAS to be good! The goal of every sentence should be to entice the reader to read the next one, right?
So how do we get better at that?
The more we write, the better writer we become. Just like Brian said.
So with Copyblogger's permission, here is Brian's great list of 10 steps to becoming a better writer.

Like this infographic? Get more content marketing tips from Copyblogger.
So what are your best tips for becoming a better writer?