The Antidote to Being Too Busy: 10 Tips for Becoming More Focused
| Category: Faith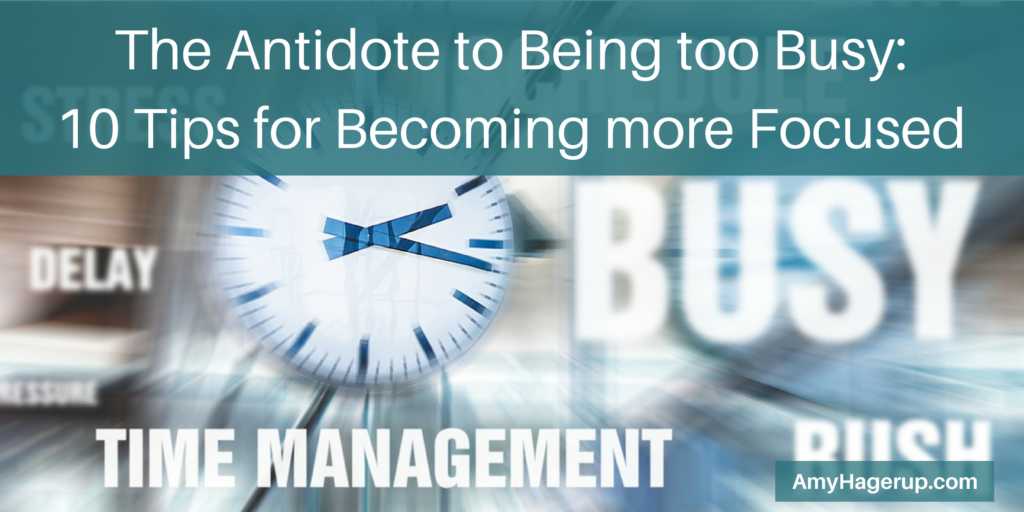 Are you too busy? Overwhelmed? Trying to play catch up ball?
Does this sound familiar: "No matter how early I get up, I can't seem to get everything done each day."
"Seems like I am always putting out fires."
"I know I should exercise, but I just don't have time."
"I'm convicted that I need to spend more time with the kids – but my life is just too busy right now."
Socrates wisely said, "Beware the barrenness of a too busy life."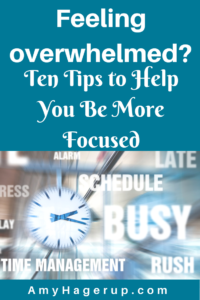 Being busy doesn't necessarily equate to making progress.
Or making an impact.
Or being on a path to reach a goal.
The antidote to being too busy is to learn to focus.
Focus is key to reaching your long term goals and it is what impacts your short term goals.
One of my long term goals was to raise godly, well-rounded children.
Another goal of lesser importance was to earn a Master's Degree in education. I was able to take a course by extension while we were in Ghana to prepare for our furlough when I could take more classes toward the degree.
When we got to America and I began to plan for the courses to get my Master's Degree, I was disappointed to realize that all the courses were offered from 4:30 until 7:30 p.m. each weekday. (I suppose this was so that teachers could have their job teaching and then attend classes after their school got out.) This conflicted with my other "more important" goal to raise godly children as these were the best hours I would have with my children each day after they got home from school.
Guess which goal got the boot? Yep – you're right – the Master's Degree in education. My time with my children, investing in their young lives, was more important to me than earning a degree so I chose to focus on my children.
Focus is needed for building a meaningful life. You want to keep things simple and figure out what to ignore.
Basically, you want to learn to focus to combat being too busy. But how can you do that?
Here are 10 tips for becoming more focused and solving your "too busy" syndrome:
1. Rethink your priorities. You might have to do goal surgery. Write down what the most important things you need to accomplish are, not only in your business, but also in your life. If you want to raise awesome kids, then you need to proactively schedule in time to invest in them with reading stories, outings, playing catch, teaching them to love the Lord, etc.
2. Make a list of your IPAs (income producing activities). You need to make these things a priority in your daily schedule. If you enjoy writing blog posts but you need to be servicing your clients in your network marketing business, then be sure you schedule in both activities and prioritize them.
3. Make sure the time you spend on a task is proportionate to its importance. Your goal should not be just to get a job done, but to get the important jobs done.
One of the companies that I used to be in was Creative Memories where I helped people with getting their photos into albums or digital books. I sent out a monthly e-newsletter to my clients. From my newsletter, I might get one or two responses, and perhaps one order, but the main thing I accomplished was continued customer service to my clients. If I spent a couple of hours crafting this email, then that was not good use of my time. It was much better to focus on getting a friendly, helpful email written and then blasting it out and moving onto the next task.
4. Don't waste time on things that aren't adding value to your life or your job. If you simplify and eliminate the unnecessary time wasters from your life, you will have more time to focus on what is important.
Scale down your volunteering for the home association, school parties, etc. I'm not saying to stop all because being involved in your kids' activity might be one of your priorities. Just be careful that you don't become a professional volunteer to the expense of your other life goals.
A big time waster can be technology. Sometimes you need to disconnect from it. Turn off all notifications from emails, facebook, tweets, etc. Put controls on your time on social media and only go there when you schedule it in either for a purpose or for pleasure.
5. Learn to delegate. Even children can stamp your newsletters for you.
6. De-junk your living environment. Look around you right now. Are you working in a mess? Clean it up. Get rid of stuff. You will be surprised how this will help your focus.
7. Put first things first. Your time is very valuable and your energy is limited. Schedule in the most important tasks when you are at your best – possibly in the morning. Check out Stephen Covey's book The Seven Habits of Highly Effective People (affiliate link) where he addresses putting things first as one of the habits.
8. Do not let someone else dictate your goals or how you spend your time. When you are working on a team or have trainers, you will be tempted to schedule something for their benefit or approval rather than what you know you need to do. Be confident when you chose not to participate in a meeting or a challenge for your own scheduling reasons. Your colleagues will be proud of you in the long run.
9. Strive for balance. Balance is much more important than perfection. I find when I am balancing my priorities well, I feel much more peace.
10. Schedule in celebrations. When I get a new kindle book published, I celebrate. It's a great feeling of accomplishment. Be sure to include this in your plan for focusing and simplifying your life.
What are your tips for focusing on your priorities? Leave a comment below to let me know how you are solving your own "too busy" syndrome and learning to focus better.
Photo Source: Microsoft Free Images