Health Benefits of Alfalfa: Allergies and More
| Category: Nutrition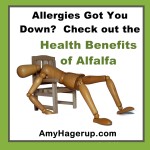 Here is One of the Amazing Health Benefits of Alfalfa!
At age 32 after two years of allergy shots, and spending a ton of money, Angie* still felt horrible.
Her tests showed that she was allergic to 47 things (dust, pollen, foods, mold, grass, and much more.) The doctor suggested more tests and shots, but she was getting pretty fed up with the lack of results after so much money and effort was expended.
Her husband's cousin told them about Shaklee "stuff." Angie reluctantly agreed to try the Shaklee products only because he promised her she could get her money back if they didn't make her feel better.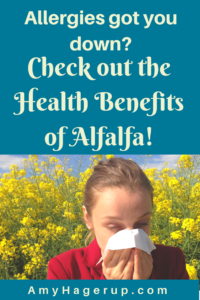 Angie started on Vita-Lea, Life Protein, HerbLax, and Alfalfa.
In Angie's words, "the rest is history." In a few weeks, instead of feeling exhausted, sneezing, and blowing all the time, she felt like a new person!
When she ran out, she did what any sensible person would do and assumed she could get the same result from products at the health food store. "After all, alfalfa is alfalfa, right?" she rhetorically asked.
But when she took the health store ones, she got sick again. So she tried Shaklee one more time and felt great once again.
She said that she now realizes that Shaklee is different but the most important lesson was from her own body.
Have you ever realized the amazing health benefits of alfalfa?
Alfalfa benefits your health even more than you recognize.
Alfalfa has a diverse variety of nutrients. Its taproot stretches down as deep as 20 feet, seeking vitamins and minerals deep in the soil. Its leaves collect big amounts of chlorophyll via the process of photosynthesis.
Alfalfa is high in healthy protein and integrates eight digestive enzymes.
Nutrients found in alfalfa are calcium and phosphorus, chlorophyll, bio-flavonoids, trace elements and vitamins A, C, E, & K.

Alfalfa is one of the best nutritious foods known.
Special harvesting equipment is used by Shaklee to make certain the highest concentration of vitamins and minerals are fully maintained. Shaklee also does not use fungicides, bacteriocides, growth regulators, special hormones, or other chemicals.
Make sure the alfalfa you use is organic, wholesome, and free of toxins. Remember to always differentiate between natural and synthetic supplements.
Alfalfa has been used for many different health issues.
Here are just a few: pain & stiffened joints, arthritis, ulcers, allergies, digestive issues, intestinal problems, gas pains, hiatal hernia, water retention, swollen ankles/feet, sinus problems, hay fever, gout, body odor, smelly feet, and bad breath.
Alfalfa also enhances body detoxification and is an all-natural antihistamine. So allergy and asthma sufferers take note! Taking alfalfa along with NutriFeron is a great combo for helping to improve allergies and asthma.
Alfalfa is an organic diuretic and is used as a digestive aid. It supplies fiber & chlorophyll, is a rich source of trace minerals, aids diabetics, helps to lower cholesterol, and offers anti-tumor and anti-bacterial activity. That's a lot of great benefits!
Check with your medical professional to see how alfalfa supplements can help your health too.
Here are a few alfalfa testimonies shared by Shaklee users:
"Alfalfa is my best-loved nutritional supplement. The deep root system delivers many trace minerals that are not available in our foods today. My allergies and headaches are a thing of the past. It is also a fantastic detoxifier." JO
"When my wife was expecting our first child, she got a sunburn that caused a lot of edema in her legs. Alfalfa took care of it." BF
"Alfalfa is one of my favorite products! My husband finally agreed to take a dose (10 tablets) before he went out to mow the lawn. We live in the middle of a former Christmas tree farm and there is lots of pollen. Previously, my husband could hardly finish the mowing because he would get so congested. Now, he takes the Alfalfa dose and goes out to mow and comes back in with no congestion!" CL
"I couldn't live without alfalfa! I had persistent sinus problems but, thanks to alfalfa, no more headaches or infections. I stopped for a week and the headaches returned. I consistently take 15 a day. I love alfalfa." BK
I absolutely love alfalfa too. You can swallow them as whole tablets or crush them for a natural and refreshing tea.
Think of alfalfa as a high-powered vegetable. I tell my friends to think of each tablet as a tiny bite of spinach. That is why the recommended dose on the bottle is 10 a day. Take alfalfa each day with meals so you can maximize its absorption.
What alfalfa health benefits would you like to experience?
*Name has been changed to protect her privacy.
Next action: Click here to order a small bottle of Shaklee's Alfalfa Complex (330 tablets). Or click here to order a large bottle of Shaklee's Alfalfa Complex (700 tabs).
Health Disclaimer: This post is the opinion of the author and these statements have not been approved by the FDA. This is not intended to treat, diagnose, cure, or prevent any disease. Contact your health professional for all your medical concerns and be sure to ask him about the health benefits of alfalfa.