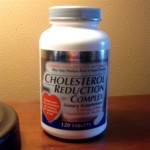 Do you know someone with high cholesterol? The question is: "statins …. or stanols?" Say, what? Let me explain.
Statins are drugs that are able to block the action of a chemical in the liver that is necessary for making cholesterol.
Possible side effects from statins include headaches, pins and needles sensation, abdominal pain, bloating, diarrhea, feeling sick, a rash & a slim chance of severe form of muscle inflammation.
Plant stanols & sterols are found naturally in plants, fruits, vegetables, and grains, and have been clinically proven by more than 80 studies to lower LDL cholesterol.
There are no side effects from natural plant stanols and sterols.
Shaklee's Cholesterol Reduction Complex delivers 2000 mg of plant stanols and sterols daily.
Here is what Lilli wrote: "In late July my husband's cardiologist was beginning to talk "statins" which are not even an option for us because of all the side effects, so James began taking Cholesterol Reduction Complex in late July. In 3 1/2 months, after taking the CRC, James' LDL (bad) dropped from 145 to 116. His HDL (good) increased from 63 to 78. His cardiologist was amazed. James is on no medication, only vitamins and his doctor is wanting information on what he has been taking." *
Isn't that exciting? I love success stories from natural solutions! Want to know more about how to reduce other types of prescription usage? Check it out here.
National Institutes of Health recommendation for lowering cholesterol: eat less saturated fat and cholesterol, exercise, lose weight, eat more soluble fiber, and consume 2000 mg of plant stanols and sterols daily.
Want to read a letter written to doctors by a doctor about Shaklee's Cholesterol Reduction Complex? I thought so. Here it is: Letter to doctors
So take care of yourself, and get your cholesterol down the natural way.
Next action: Want to lower your cholesterol the natural way. Order Cholesterol Reduction Complex here.
*Excerpted from Life Changing Short Stories complied by Lorri Kruesher, used by permission
Disclaimer: These statements have not been approved by the FDA and are not meant to treat, diagnose, cure, or prevent any disease. Contact your health professional for all your medical concerns including lowering your cholesterol the natural way.