More Inspirational Stories: "African Adventures with the Almighty's Signature"
| Category: Faith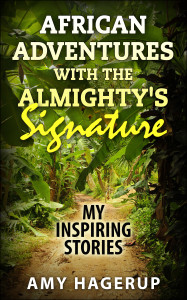 Did you know that I write inspirational stories with a certain purpose in mind?
I believe if  you receive just one message from my life,  I want it to be one of knowing how very much God loves you and cares deeply for you.
Since my young adulthood, I have felt that the purpose of my life is to help people take their next step in their journey toward God.
With that in mind, I like to filter everything I do through that lens, asking myself: "Will this help someone grow closer to knowing the Lord better?"
Now with limited time available to me, I have to be very laser-focused to make every effort count. With that in mind, I have compiled a book of stories from my life that I want to encourage and inspire you with.
As much as I enjoy the writing process on inspiring stories, I know that they are just words on a page unless they can leap from the page into someone's heart and make an impact there. 
I believe the written word has the power to do that because I experience it myself every day – being transformed and inspired to grow in the Lord.

These inspirational stories in this book on our experiences in Africa are not meant to entertain you because a fiction story could easily accomplish that. 
No, these stories are shared to encourage and inspire you – to make you nod in agreement that God is indeed alive and powerful and ready to act on your behalf.
My husband and I were missionaries in Ethiopia for three years and in Ghana for twenty years. Twenty-three years, including all the furlough years in between, is a lot of time to experience God's faithfulness throughout the adventures of our lives. And He didn't stop when we changed location either.
Check out my book, African Adventures with the Almighty's Signature: My Inspiring Stories [affiliate link]. If you don't have a kindle, you can read it on your computer or other digital device – no problem.
I'd love to hear about your inspiring life stories with God's signature too. We all have them – you just have to learn to connect the dots.