Turn Around Your Size Offer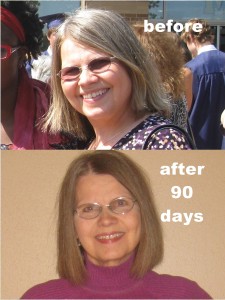 If you are like me, you have tried many different weight loss programs . . . only to gain the weight back . . .
           FREE E-Report Explains a Proven, Healthy Weight Loss Method To Help You Turn Around Your Size in Just 90 Days!
Discover a weight loss program that works scientifically and is super healthy!
You will learn:
The #1 reason why most diets fail
The secret to solving the "I'm hungry" pitfall
Why you should give this method a try for at least 30 days
Step by step instructions for following the plan
How to overcome the five main stumbling blocks to being successful on this healthy program
How to determine if this program is for you or not
Hear the main objections crushed
Learn how to get these products for FREE!
See 3 case studies from normal, average people
Just think, in 3 months time, you can be 15-20 pounds healthier . . . and maybe even more! Check this out immediately. Your health is at stake.
Disclaimer: This information does not guarantee your success. Your success will depend on your own effort. This has not been approved by the FDA and is not intended to treat, diagnose, cure, or prevent any disease. Contact your medical professional for all your health needs including starting a weight loss program.
Simply fill in your info below and click submit: