What is Taking Up Too Much Real Estate in Your Brain? 5 Tips to Help You Declutter Your Brain
| Category: Faith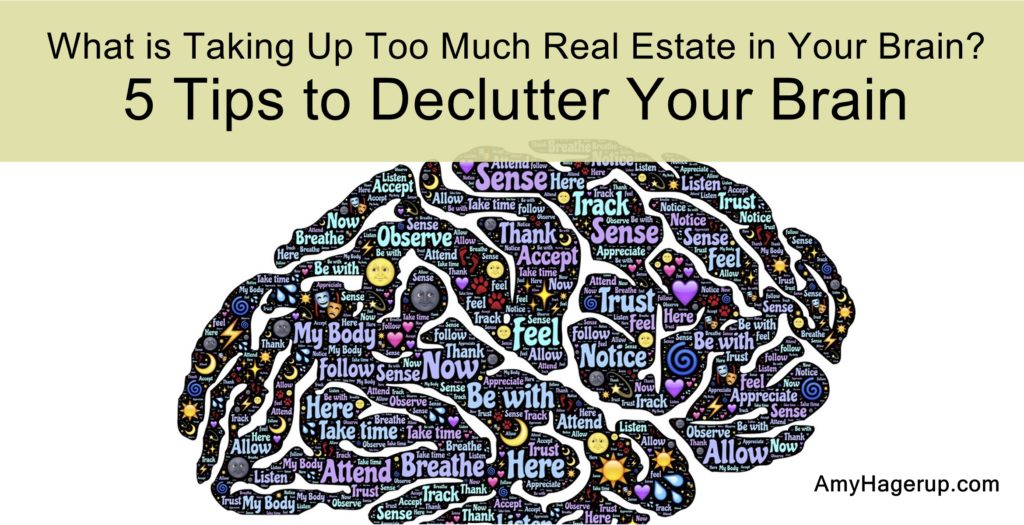 My Wake Up Call that My Brain was Too Cluttered
Years ago, I was teaching Class 2 in an international school in Kumasi, Ghana where my children also attended. I enjoyed teaching my 24 six year olds, though I did feel the heavy responsibility of taking them from point A in September to point B in June!
I spent a lot of time thinking about how to provide the best learning tools for these kids. Our books and supplies were limited so I used small, white-papered exercise books for their writing assignments.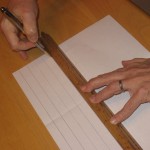 I remember one night after my three kids were in bed, I was using a ruler to draw lines in each of the 24 exercise books for the next day – so my kids would have lines to write on. As I drew the lines, I suddenly came to my senses!
Being consumed with straight lines for these kids to write on was taking up way too much real estate in my brain – as well as minutes from my day that could be invested in a much more profitable way. I put the pen and ruler down and accepted the fact that the kids could write their assignments without the lines.
I then went and spent some quality time with my husband!
A Step I took to Take Back some Brain Real Estate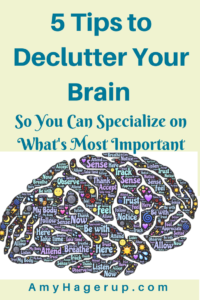 Awhile ago, I was juggling two home businesses – trying to keep the older one alive while wanting to invest more time and energy into my Shaklee Health & Wellness business.
Checking on my order, making phone calls, trading inventory all were draining my time and attention from my Shaklee business. Finally, I realized that it was taking up too much real estate in my brain and I needed to specialize.
I made some good changes and freed up that valuable brain real estate!
Have you ever experienced something like that? Something that was taking up too much real estate in your brain?
It could be too many irons in the fire. Or it could be something that is not work-related at all – like dwelling on a wrong that was done to you, even years ago! Ever had that experience?
Or perhaps it is subscribing to too many internet gurus you are trying to follow and learn from – so many that you get overwhelmed. See what I mean?
Here are five tips to help you declutter your brain:
1. Decide what is most important in your life. Take time to write out goals. If you have written out goals for your life, family, and business, you will be able to measure different activities against the goals to see if they are helping or hurting the direction you want your life and character to go.
There are lots of different books and websites to help you know how to write out goals. One of my favorite books is Seven Habits of Highly Effectual People by Stephen Covey. Covey helps you see life in all your different roles, not just your work or family role.
2. Clear out the clutter. Just like clearing out physical clutter can help you feel more organized, so clearing out "brain" clutter can help too. You can do things like eliminate one credit card which would be one less bill to pay, rewards to juggle, etc. Unsubscribe from some lists you are on. Learn to use systems.
3. Don't live in the past. Stop blaming your weaknesses on your childhood. Stop nursing a grudge. Put it to rest and move on.
4. Keep perspective of the real essentials in life. Recently, I was very upset and invested a lot of brain real estate when I realized my daughter had gotten the redeeming code for a gift card at our grocery store when she made a  purchase on her way to school and the receipt was long gone in the school's garbage. I had to keep perspective that it wasn't the end of the world (only an $8 gift card) and my daughter's psyche was more important than getting that code back!
5. Be in the moment. Goals are important to have but they take time to achieve. So be sure you enjoy each moment of your days. Take time to smell the roses and enjoy the journey of your life.
Get in the practice of looking your child or spouse in their eyes when they are talking to you rather than continuing to type on the keyboard! It's easy to just give them part of your brain real estate at that moment rather than all of it.
Ephesians 5:15 & 16 says "Look carefully then how you walk, not as unwise but as wise, making the best use of the time, because the days are evil." (ESV) I want to be sure I am making the best use of my time every day.
What is taking up too much real estate in your brain? too many irons in the fire? family drama? stress of daily living? signed up for too many affiliate programs?
For good emotional health and good business health, you want to specialize and simplify. Figure out what is important to you and then filter your thoughts through that.
You will slowly discover that the real estate in your brain is available for what truly matters to you.
This post contains affiliate offers but there is no additional charge to you.