Inspirational Christian Story: Living a Blameless Life
| Category: Faith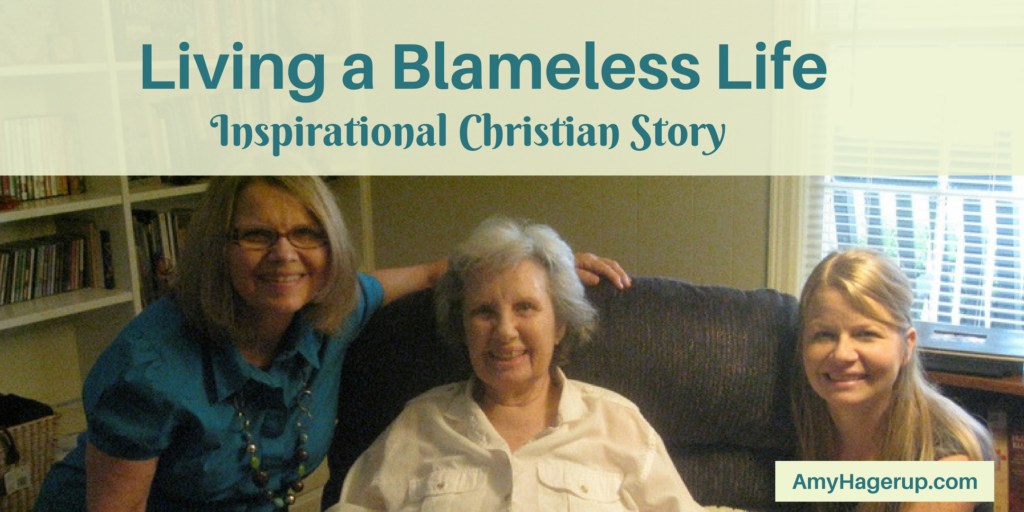 What do you think it means – to live a blameless life?
This photo is a picture of my mother, Margaret Roth, praying over 3 of her 22 great-grandchildren, one of whom is also in the photo. She truly lived a blameless life.
My friend, Mark Prescott, who formerly was an educator in China, wrote the following article about what it means to be blameless, using my mother's life as an example.
Read his personal story here.

"Each year, as we discuss the word "blameless," I tell my 7th grade students about Margaret.
I talk about the times she comes to the front porch as Marilyn and I drive into the driveway and begins to clap with excitement. I tell them about how she only wants to talk about Jesus and what He has been doing lately.
I talk about how she steers the conversation back to us and China. I talk about how she knows the names of our children and grandchildren … not to impress us, but because she prays for them by name.
I talk about the total stranger who might see this woman walking around her yard talking to herself as we drive off … and how, if they could hear her, they would understand that she is praying for us, for the tires on our car, for a smooth trip as we return to China, and that He will save many souls there. I tell them that I have met only a handful of people like her in my life and that my hope is that He will introduce "Margarets" into their lives and that they should cherish and emulate them.
In 8th grade this week, we were discussing the 10 Commandments. "You shall not use the Name of the Lord in vain."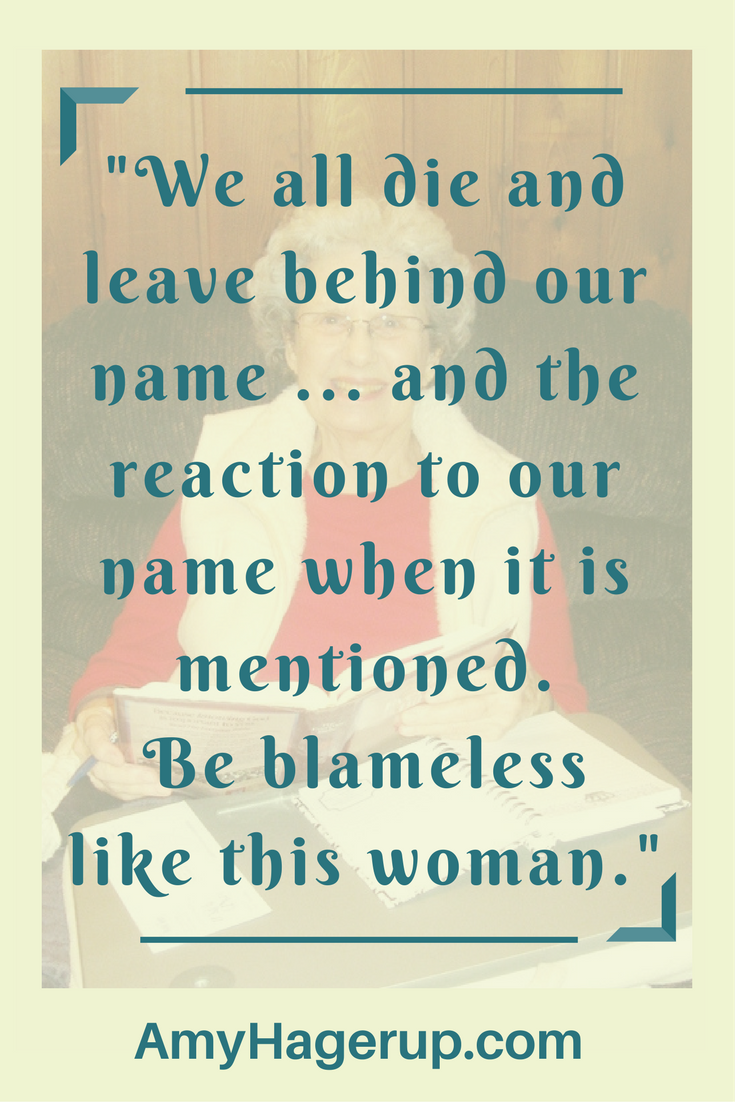 I explained that we all value our name … our reputation.
I explained that we all die, leaving nothing behind except our name. I explained that what we leave behind is the reaction . . . at the funeral, 6 months, 5 years, 25 years later … when anyone mentions our name.
No one wants the first thought that comes into a person's mind at the mention of our name to be negative … not even neutral.
We want that first thought to be positive, perhaps even a little sad that we are no longer there.
I asked if they remembered from 7th grade about the lady who clapped as we got to her house. There were many nods.
I said that I had, just a few minutes before, received an e-mail from Mrs. Prescott which only had a subject line: "Margaret is in heaven".
Several were shocked and a few showed a touch of loss.
I said no one will ever, in this life, have a negative first thought when her name is mentioned.
That is the blameless life … not sinless … blameless such that if someone wants to say something bad they must lie.
And then they understood that that is how God wants His Name to be remembered each time it is spoken … not frivolously or callously … but with awe, reverence, and love."
Let us all strive to live a life that is blameless.