9 Tips for Living Life on Purpose
| Category: Faith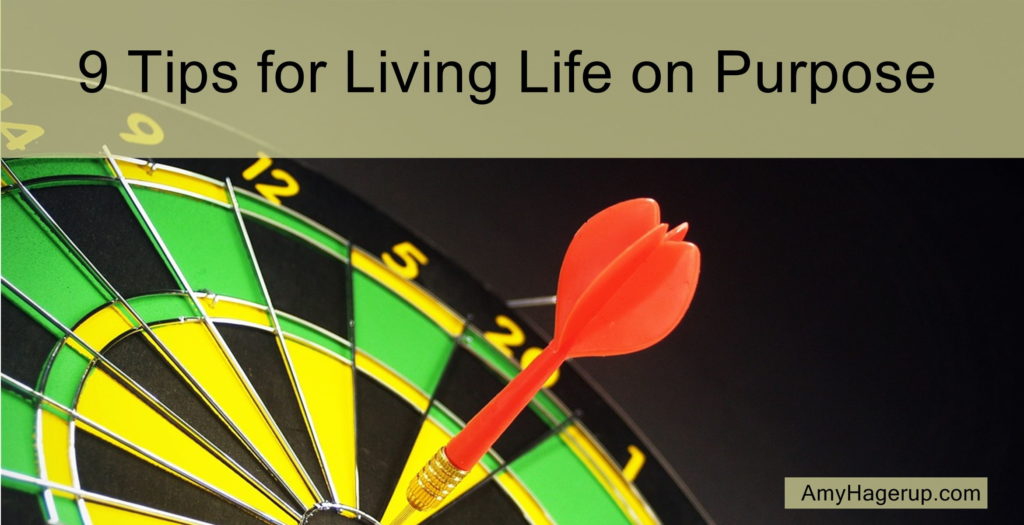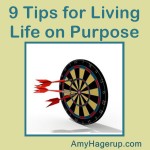 I don't think any of us start our adult lives thinking of living our life on purpose. It's all we can do to juggle finishing college, getting a job, possibly starting a marriage, and frankly, just surviving the rigors of life outside of mom and dad's protection.
The experiences behind my "purpose-hood" (is that a word?) began in Addis Ababa, Ethiopia. As a summer missionary, I would take a missionary's baby for a walk in her stroller around the big city block where our mission headquarters was located. I soon began to be followed by a beehive of darling Ethiopian children.
Their little hands were extended toward me as they repeated over and over again "mah – dam," "mah –dam," "mah-dam."
They were begging for a few coins to go from my possession to theirs.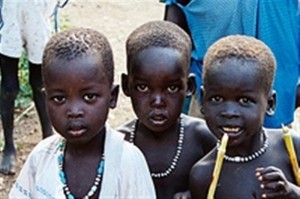 Their big brown eyes full of wont penetrated into my very soul. Their persistence to follow me around the entire city block – which was quite far – was actually, well, annoying.
Even giving them a few coins never satisfied – rather it seemed to fuel the fire of their belief that I could change their life, at least for a day anyway.
As a 21 year old, I was new at this thing called adulthood . . . purposeful living . . . reason for existence. I hadn't yet mastered the art of reflection – choosing one's course in life – not that I've mastered all that now, but you know what I mean.
This was a beginning seed planted of my purpose in life – what drives me – what get me up in the morning to make a difference on this planet. More about that in a minute.
Are you living your life on purpose? Maybe you would like to but are not sure how to move forward in doing so. Think of your life experiences where you felt that twinge of emotion in your heart when you were doing it – like I felt as I listened to those little children trying to intersect their lives with mine on that long block in Addis Ababa.
When you live your life on purpose, their is a congruency in your life that is attractive to others.
Here are nine tips for living life on purpose:
1: Crystallize your purpose. If you don't know what you were created for, then you won't be able to fulfill it. Jeremiah 29:11 is our family's life verse: "For I know the plans I have for you, says the Lord, plans for good and not for evil to give you a future and a hope." There are lots of websites and resources to help you determine what you were made for. Invest in them. Two quick suggestions are Strength-Finders 2.0 and Start with Why.
2: Get laser-focused in your daily schedule. Plan your work and work your plan. Now don't become a work-a-holic. Schedule in relationship-building, recreation, etc. not just work. Whatever activity you are engaged in, be sure you ask yourself: is that how I want to spend my life?
3. Treat every day as a gift. Every day of our lives is a precious gift. Treat it that way.
4. Don't compare yourselves to others. God has planned a very specific life for you. Live the life He has designed for you, not someone else.
5. Keep learning and developing yourself. This will involve lots of reading and applying what you have learned. Seek out a mentor. Grow where you are planted.
6. Live in the moment. One fault of super-focused, driven people is that we can be preoccupied with accomplishing our goals, especially work goals. I listened to an interview recently where the successful young man said he had two failed marriages because of being so hyper-focused on his work. He said, "I thought the fancy house and the fancy cars was enough for my wife, but each one wanted me instead." Learn to embrace the moment – if it is playing with your kids, enjoying a sunset, or giving a dynamic presentation, love every delicious second!
7. Make it a habit to be thankful. Having a grateful heart is the foundation for a great life philosophy. I Thessalonians 5:18 says "In everything give thanks for this is the will of God for you in Christ Jesus."
8. Believe that everything happens for a reason. When this is your life philosophy, you can handle disappointments with grace. When I was 10 years old, I got sick with St. Vitus Dance and had to take bycillin shots every month till I turned 15 years old and then I had to take a penicillin pill daily till I turned 21. Would you believe that taking a medication daily qualified me for a college scholarship through Vocational Rehabilitation? I graduated from college in March of 1975 and in July, I could stop taking the daily pills! God doesn't miss a beat. My illness was used to help pay for my college bills!
9. Never give up. When something you try doesn't work, just move on to another attempt. On my training team, we are always saying "check and adjust." Great motto to live by.
My life's purpose is to help individuals of all different backgrounds and cultures take their next step toward living a healthier life – spiritually and physically.
I believe that is one of the reasons that I chose to be a missionary in Ethiopia and Ghana and later in a collegiate ministry. It is a driving reason that I chose the business I am a part of as it gives me the platform to impact individuals' lives for the better.
Your life choices all strung together make up your life.
Think back to your own early adulthood. What experiences did you have that helped to formulate your purpose in life?
Comment below as to how you are living your life on purpose.
This post is linked to http://www.foreverjoyful.net/
Photo Source: Microsoft Free Images