5 Network Marketing Lessons Learned from Track Meets
| Category: Home Business Tips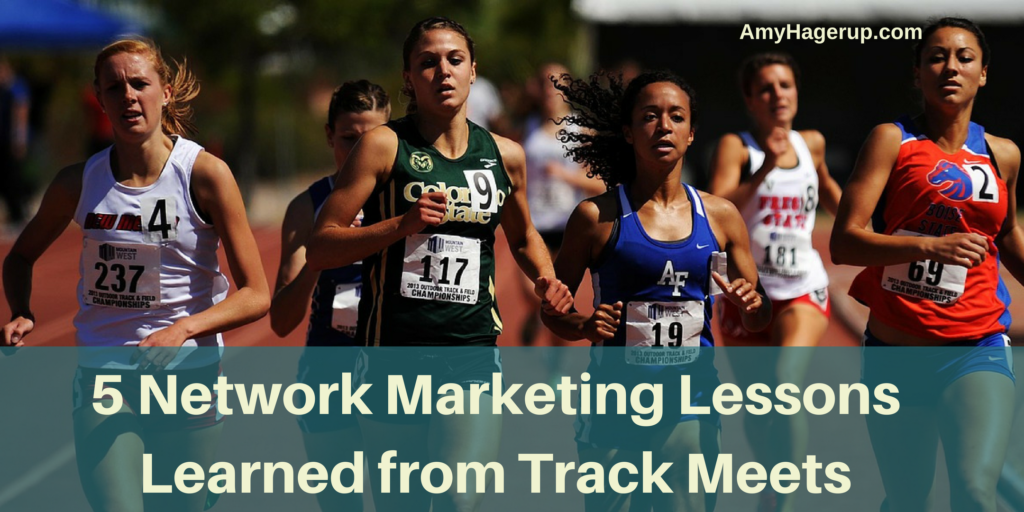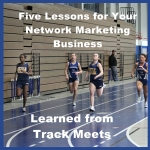 Track is one of my favorites sports to watch because there are so many great life lessons in running track.
Have you ever considered the parallels of your network marketing business to running track?
Hang on – I'll get to those in a minute.
I remember when my youngest daughter had her first JV track meet of the season. She was very excited & nervous, but she had been training and was excited about being a returning sophomore – not the youngest in JV this year.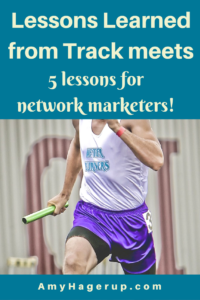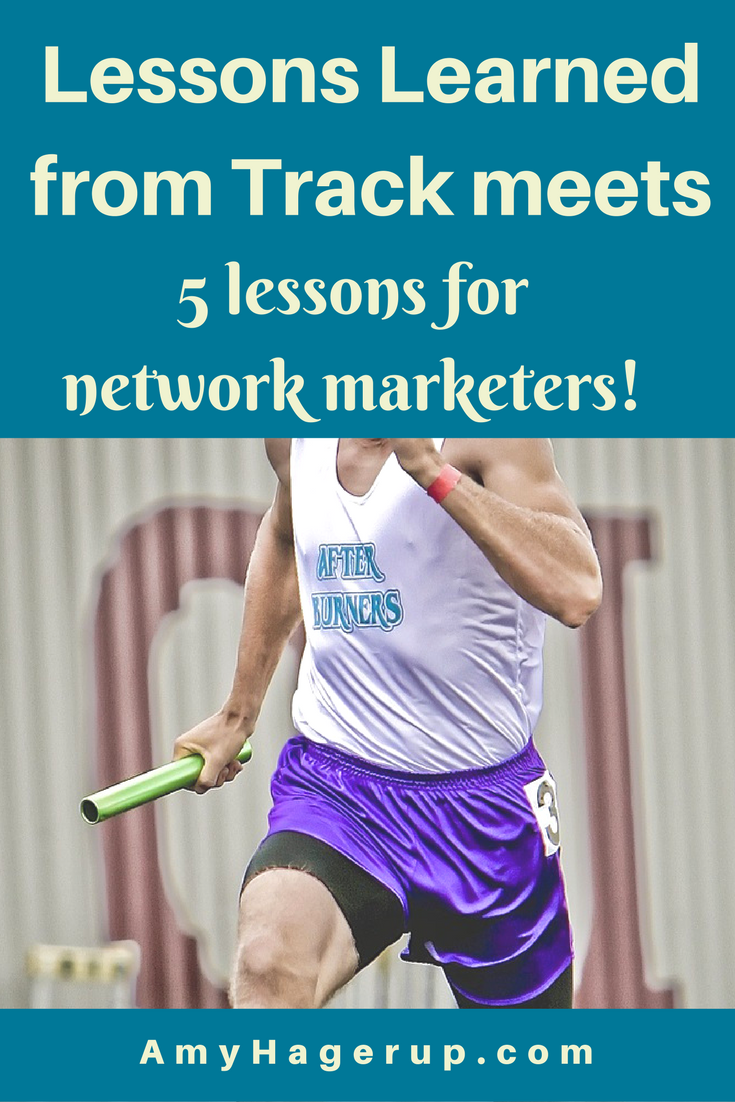 I love track season. It was our third year with our daughters running track and I must admit that I balked at letting them join at first. I was so burned out from the basketball season, but they begged me, so I finally relented.
And boy, am I glad! I think running track is one of the best parallels for life lessons, though all sports have their life lessons built in. That is for sure.
I want to take it a little deeper today to look at the lessons in running track with your network marketing business. Some of the best lessons you truly internalize are from parallels drawn from real life.
Here are 5 Lessons for Your Network Marketing Business Learned from Track Meets:
Lesson 1: You get out exactly what you put in. If you spend time training and setting your goals, you will do well.
It's the same for you in our network marketing business. Success won't fall in your lap. You need to spend time training on your products, how to market, and continuously improving on your presentation. Be sure you write out your goals and then take action. You need to do something for your business every single day.
Do you think someone who is training for a track meet takes a week off? Okay, that's just a rhetorical question.
Lesson 2: Beating your personal best is your ever-present goal. Sure, there are lots of runners out there that you want to beat, but running track really emphasizes doing your best for you. A single heat might even have others from your team running too. That's another great example of trying to beat your best.
A network marketing business includes by default all the fast-pacers, the top-tier winners, the ones on the fast track. Sometimes it can be downright discouraging when you are plugging away at making your first sales or trying to reach your first goal of $500 a month profit. The six-figure income earners touted in your in-box seem more like a clanging cymbal than a sweet harp.
Don't compare to the others, or even your sponsor. Like a track runner, work on beating your personal best.
Lesson 3: Finish what you start. It's easy to start – much harder to finish.
I remember one meet for the 3200 meter run for guys. Runner number six and number seven crossed the finish line, and number eight, the last one, came jogging around the bend. The official held up 3 fingers – the poor guy had three more laps to go and everyone else had finished! I felt so proud of him when he persevered those final three laps – solo. You should have heard the applause. Gives me chills just remembering it.
In the same way, you need to finish what you start. I have seen so many network marketers jumping from one company to another. Or just adding another company to their repertoire. Being in more than one company can be a good thing, especially when they complement one another, but just be sure you are not spreading yourself too thin.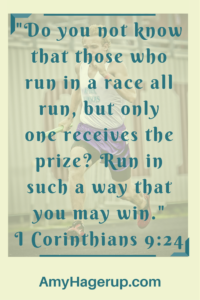 Lesson 4 – Focus on the goal. A runner really has to have focus to filter out noises all around him. There can be cheers, but there can also be naysayers. My son ran in a race once while we were in Africa and he was the only Caucasian running against fast African guys who had been running with a soccer ball since they were able to walk!
My son quickly was left in the dust by all the others and it was a mile race! Not fun. As he rounded the track after lap one and had to pass the stands, some of the people in the stands boo-ed and told him he would never catch up and to just give up.
He had focused in his mind with a goal to just finish the race – even though it would be in last place. The second lap around brought more boos – a little less this time though.
On the third lap, he saw the number 7 runner in front of him by some yards. He changed his goal from just finishing the race, to coming in 7th instead of last. Sure enough, he passed that guy.
This happened with runner number 6 too. I guess these guys hadn't paced themselves well. So Ben passed them up as they got tired.
Now he was on the home stretch. And he saw number 5 was just ahead of him. He told me that he "turned on the after burners" and began reeling the guy in inch by inch. Ben thought, "I can beat him" and he focused on that.
A funny thing happened then. The people who had boo-ed Ben before were now cheering for him! Even the crowd could tell he had focused on his goal. And, yes, he did beat that guy by a few inches and came in fifth!
Be sure you focus on your goal and filter out all the naysayers around you. I Corinthians 9:24 says "Do you not know that those who run in a race all run, but only one receives the prize? Run in such a way that you may win." (NASV)
Lesson 5 – Anyone who gets in the race is a winner. Strength of character is shown by each student who enters the race. After all, someone IS going to come in last. In my book, they are all winners.
Just getting in to the race of network marketing makes you a winner. Even if you give it the college try and decide it is not for you or that a particular company is not for you, you have still come out ahead. You learned from it, grew from it, and moved on ahead. I'm on a training team, it is called PDCA. That stands for Plan, Do, Check, and Adjust. And that's just what you'll have to do.
On the other hand, if network marketing is something that resonates with you, you will be helping others, growing yourself, establishing a residual income, and working in your passion. What could be better?
So just getting into the race of network marketing makes you a winner both ways.
Okay, back to my daughter. So how did Colette do? She tied for first place in the 55 meter dash. She and her teams got first place in the 4 lap and 6 lap relays! What a boost for Colette!
God made her fast and she was working in her strength.
When you work in your strengths, you are energized.
Find your area of strength in building your network marketing business and then do everything you can to hone that strength and lean into it as much as you can.
By working in your strength, your success is certain to grow and you will win the race. But remember it is a marathon and not a sprint.
What is the strength you are leaning into?