My Email that Got the Best Response
| Category: Faith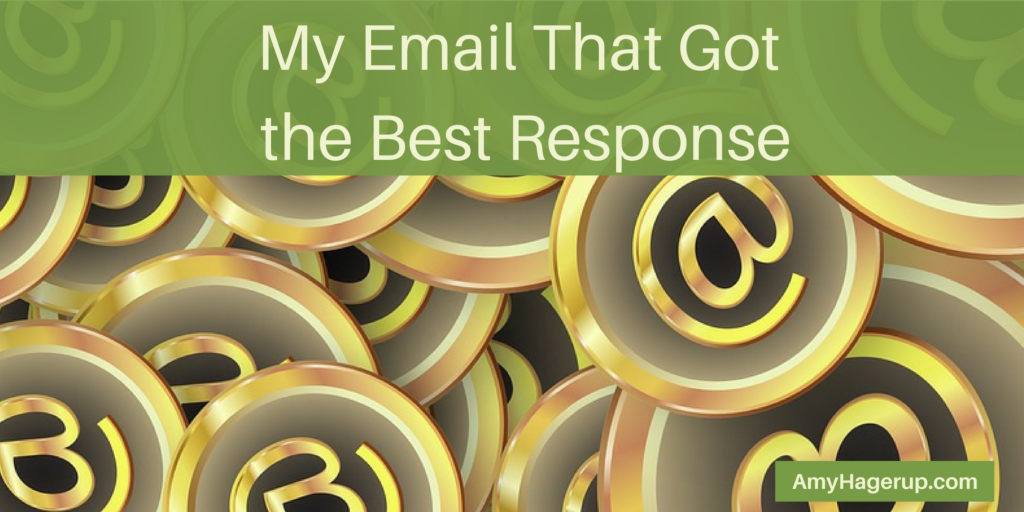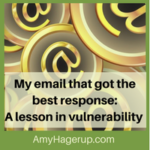 Awhile back, I sent out my weekly email and I got a tremendous response from it.
I also learned a great lesson from it. But before I share what I learned, let me share the email that I sent out:
**************
"I had a really bad day today. You know – where everything seems to go against you.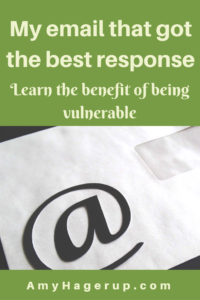 A gal who approached me to trade reviews on our kindle books backed out of the agreement – after I had already read her book!
My husband got upset about a situation with our daughter.
Yet another woman assigned to my six week Bible Study from church called to say the chosen day wouldn't work for her after all – and she was the 4th one (out of 7!) that dropped out!
As I stare at my computer screen and think, "What do I have to give to these wonderful people who open and read my emails?" (pssst – that's you!), I am reminded that even though I had a bad day, at least I had a day!
Another day to live on this earth. Another day to praise God. Another day to rise above my circumstances. Another day to declare "God is good" when my heart is hurting and my emotions are raw.
Habakkuk 3:17 says: 
"Though the fig tree may not blossom,
Nor fruit be on the vines;
Though the labor of the olive may fail,
And the fields yield no food;
Though the flock may be cut off from the fold,
And there be no herd in the stalls-"
Wow – things were pretty bleak here – no figs or fruit, a failed olive crop and the fields yielding nothing; the flocks are scattered and the stalls that normally hold the cattle are empty! For a farmer, this is desolation!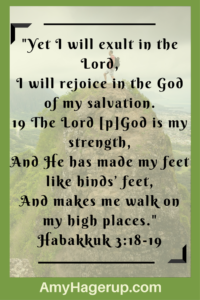 But look what he says in verses 18 & 19:
Yet I will rejoice in the Lord,
I will joy in the God of my salvation.
"The Lord God is my strength
He will make my feet like deer's feet,
And He will make me walk on my high hills." (NASV)
Habakkuk chose to rejoice in the Lord anyway and he is trusting in God as His strength  . . . to help him walk through the trials.
Whatever you are going through right now, God is right at your side. You can choose to rejoice in Him, just like Habakkuk did. 
The choice is yours. What will you choose today?"
 ******************
So that was the email. I was vulnerable. Now the amazing thing was that I got a tremendous response.
 One sweet follower fired this back:
"THAT is what you have to give: experience and perspective. (Emphasis was hers!)
Your blogs and emails and professional marketing are happy, positive and nice:  but your truth of "hey, i am a person just like you, not a slick media lady and we all have rotten days and get the wind knocked out of us" is what will set you and your business apart.
Most of us (people in general) out in the world these days are lucky to read 3 scriptures out of some promise box before we grab a doughnut and a strong coffee to try and face another day in the rat race of this world.
Now the general public can't even flip on the TV for 10 minutes of escape without hearing or seeing the "Plague" at our doorsteps and another head somewhere either in the Middle East or right here in Oklahoma getting chopped off.
It is TIME to CUT LOOSE with the light and hope and joy that is in you and me and your family.   It is time to be who He has called us to be and to draw on all the wonderful joy and peace we have that the old says:  " . . . He gave it to me and the world can't take it away". . .
Sorry:  I am in a preaching mood.    This is from one of your prayer partners and who happens to be a Shaklee customer too."
I heard from others too – one who shared her bad day (which, by the way, was far worse than mine!), several others wrote that they were praying for me – that they understood. One gal even called me to check up on me! Wow!
This email got a great response and do you want to know why?
It is because I made myself vulnerable. Like the one gal responded, I made myself known as a person just like each one of you who has bad days and gets the wind knocked out of me too.
Be vulnerable. Be real. Let your true self shine through as you communicate with others.
God uses us in our weakness because His strength is made perfect then. It's not about us . . . it's about Him!
What has been your experience with making yourself vulnerable?